September 22nd, 2008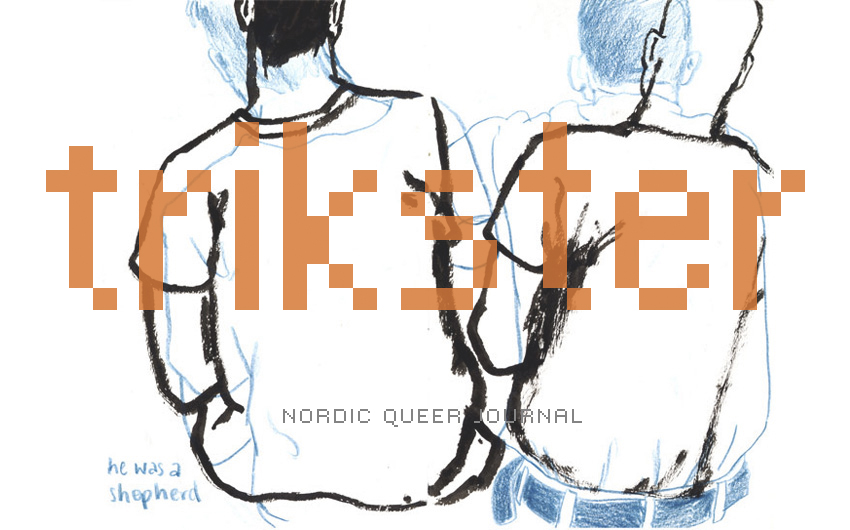 The second issue of the web magazine Trikster – Nordic Queer Journal is now online on www.trikster.net.

Trikster #2 is entitled "Querying Space" and focuses on the ways in which sexuality and gender is understood, enacted, and constructed through space. Through drawings, texts, images, and conversations Trikster focuses on the spatial politics of everyday life: the possibilities for walking or kissing safely in public, for finding a place to live, for traveling across borders. The contributions show the importance of fighting for a queerer space – on the streets, in the buildings that surround us, in the academy, as well as the political sphere.
In the issue art historian and AIDS-activist Douglas Crimp talks about the sexual geography of New York in the 1960s and 1970s; chris campe finds queer spaces in the in-betweens in her series of drawings from queer activist spaces; Katarina Bonnevier takes us into the famous author Selma Lagerlöf's manor Mårbacka and shows how sexuality is inscribed into the architectural structures, while Tuula Juvonen and Pia Livia Hekanaho discuss the homophobic atmosphere in Finnish academia.
The issue also presents contributions from Mette Buchardt, Mathias Kryger Hansen, Suzanne van Rossenberg, Elin Emil Sandström Lundh and Christoph Emmanuelle Fielder, Tatjana Laursen and Sissela Segergren, and Dorthe Staunæs.
Trikster – Nordic Queer Journal is a multilingual web magazine, edited by Mathias Danbolt. Trikster releases three issues a year, and is supported by The Freedom of Expression Foundation, Oslo, Nordic Culture Fund, and Center for Women's and Gender Studies, University of Bergen. For more information, visit www.trikster.net or contact Mathias Danbolt at mathias@trikster.net / +45 41 15 16 13.
*
Trikster #2 er lansert
Trikster – Nordic Queer Journal lanserer i dag sitt andre nummer på www.trikster.net.
Trikster #2 har tittelen "Querying Space" og stiller spørsmål til hvordan kjønn og seksualitet forståes, konstrueres og utfolder seg i og gjennom rom. Med tekster, tegninger, bilder og samtaler ønsker Trikster å rette oppmerksomheten mot hverdagslivets romlige politikk: mulighetene vi har for å bevege oss fritt i offentligheten, for å finne et sted å bo, for å reise på tvers av grenser. Bidragene i nummeret viser betydningen av å kjempe for et mer queert rom – på gaten, i bygningene rundt oss, innenfor akademia og i den politiske sfæren.
I nummeret forteller blant annet den amerikanske kunsthistorikeren og aids-aktivisten Douglas Crimp om den seksuelle geografien i New York på 1960-70-tallet i miljøet rundt Andy Warhol. Katarina Bonnevier fører oss inn i Selma Lagerlöfs herregård Mårbacka, og viser hvordan det seksuelle dramaet som utspilte seg mellom forfatteren og hennes to elskerinner er innskrevet i bygningens arkitektur. Mathias Kryger Hansen tar oss med på cruising i Ørstedsparken i København gjennom en diskusjon av kunstneren Lasse Laus prosjekter om å skape private erotiske rom i offentligheten.
Utover dette inneholder nummeret bidrag fra Mette Buchardt, chris campe, Tuula Juvonen og Pia Livia Hekanaho, Suzanne van Rossenberg, Elin Emil Sandström Lundh og Christoph Emmanuelle Fielder, Tatjana Laursen og Sissela Segergren, og Dorthe Staunæs.
Trikster er et flerspråklig, gratis webmagasin som utkommer tre ganger i året. Trikster redigeres av Mathias Danbolt, og er Støttet av Fritt Ord, Nordisk Kulturfond og Senter for Kvinne- og Kjønnsforskning ved Universitetet i Bergen. For ytterligere informasjon, besøk oss på www.trikster.net eller kontakt Mathias Danbolt på mathias@trikster.net / +45 41 15 16 13.