Sunday, November 21st, 2010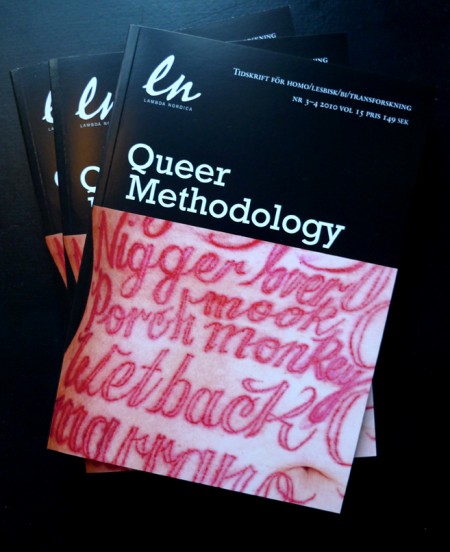 Lambda Nordica, the great Swedish LGBT-studies journal, has just released a good looking issue on "Queer Methodology". The main articles in the issue are all in English, and this is what the editors write in the press release:
"Fanny Ambjörnsson, Pia Laskar and Patrik Steorn of the Queer Seminar at Stockholm University has acted as Guest Editors for this publication that feature articles chosen from a number of papers presented under a queer theme within the interdisciplinary colloquium "Feminist Research Methods – An International Conference" at Centre for Gender Studies, Stockholm University in February 2009.
Various disciplines with different perspectives and takes on queer methodology are represented in this issue that focus on texts written by researchers active in a Nordic context, which highlights the vital and growing interest in Queer Studies in the Nordic countries. The outcome is a diverse and heterogeneous selection of texts discussing queer and methodologies, which makes this issue of lambda nordica a vital contribution to a continued and further detailed discussion of the role of methodology within interdisciplinary Queer Studies."
The table of contents of the issue looks like this:
Fanny Ambjörnsson, Pia Laskar, Patrik Steorn: "Introduction"
Irina Schmitt: "Do you have a boyfriend? Feeling queer in youth and education research"
Anu Koinvunen: "Yes we can? The promise of affect for queer scholarship"
Mark Graham: "Things in the Field. Ethnographic research into objects and sexuality"
Mathias Danbolt: "We're Here! We're Queer?– Activist Archives and Archival Activism"
Patrik Steorn: "Queer in the museum: Methodological reflections on doing queer in museum collections"
The cover of the issue is from the amazing performance artist Mary Coble's work Blood Script (2008).
You can order an issue of Lambda Nordica here.