Friday, May 2nd, 2008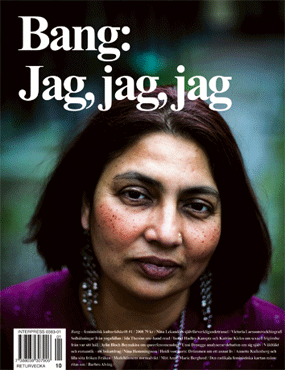 Chandra Talpade Mohanty pryder forsiden på det nyeste nummeret av det svenske feministiske tidsskriftet Bang. Mohanty har arbeidet med transnasjonal feminisme og postkolonial teori i en årekke, men ble for alvor kjent med boken Feminism Without Borders: Decolonizing Theory, Practicing Solidarity (2003), som kom på svensk i 2006 (Feminism utan gränser, Tankekraft Förlag). Hvorfor Mohanty er på forsiden av Bang finner jeg ikke umiddelbart svar på ved å lese det ellers interessante nummeret av tidsskriftet, men Mohanty er vel evig aktuell, som sett i Tiina Rosenbergs artikkel Om queerfeministisk politik i Trikster #1.
Den 28. mai har man mulighet til å høre en åpen forelesning med Mohanty på Lunds universitet i Sverige. Sammen med en annen verdensstjerne, den postmoderne teoretikeren David Harvey, har Mohanty nemlig blitt utnevnt til æresdoktor ved Lunds universitet, og i forbindelse med utnevnelsessermonien skal de begge forelese den 28. mai.
Mohanty foreleser i Kulturens auditorium i Lund kl. 13 (mer info her), og direkte etterpå, kl. 15.15, holder David Harvey forelesningen "The right to the City" på Geocentrum I, Världen, Sölvegatan 10 i Lund (mer om det her).
Dem som befinner seg i nærheten av Lunds universitet denne maidagen, har her en glimrende mulighet for å få med seg to ytterst forskjellige, men sentrale internasjonale teoretikere.