Tuesday, May 31st, 2011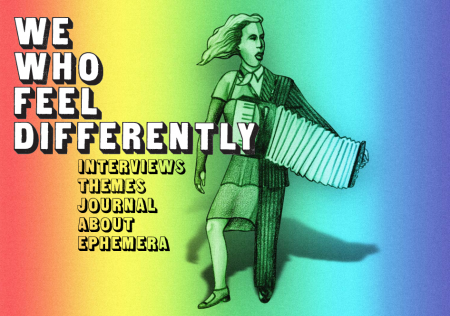 A couple of weeks ago, the multi-disciplinary artist Carlos Motta released his fascinating research-based art project We Who Feel Differently with talks in Bergen and Oslo.
We Who Feel Differently is the result of Motta's extensive work on queer activism and the question of alternative thinking, centered around numerous interviews with activists in Colombia, USA, South Korea and Norway. Motta has collected an amazing number of voices and material, and he has been generous enough to present it all for free on a compelling homepage: wewhofeeldifferently.info. Great!
I have just started to read, listen and watch all the fascinating material in the interview, journal, ephemera and theme-sections, and look forward to spend much time on and with this homepage in the future. Here is how Motta presents the structure of the project:
We Who Feel Differently is a database documentary that addresses this question and other critical issues of contemporary queer culture.
Interviews features conversations with fifty queer academicians, activists, artists, radicals, researchers, and others in Colombia, Norway, South Korea and the United States about the histories and development of LGBTIQQ politics in those countries.
Themes outlines five thematic threads drawn from the interviews in the form of a narrative. This section has also been produced as a book.
Journal is a sporadic publication that presents in depth analyses and critiques of LGBTIQQ politics from queer perspectives. The first issue is "Queerly Yours: Thoughts and Afterthoughts on Marriage Equality."
We Who Feel Differently attempts to reclaim a queer "We" that values difference over sameness, a "We" that resists assimilation, and a "We" that embraces difference as a critical opportunity to construct a socially just world.
I hope Motta's project will generate critical discussion and debate about politics of difference and sameness, queerness etc. It surely is a gold mine to all scholars, activists, artists and others interested in queer activism, transnational solidarity and alternative perspectives on the "site" of queer politics. I hope to write more about this project in the future!