Sunday, March 9th, 2008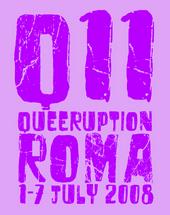 Yesterday the queer network in Rome informed that Queeruption 2008 unfortunatly has been cancelled. This is what they wrote:
"Dear Queeruptors,
We regret to inform you that following our meetings, it has been decided that, due to a number of factors, we are not in a position to organize Queeruption in Rome during the first week of July.
This is very sad news for many of you as it is for some of us.
Despite the initial optimism and excitement, it is felt that we are not yet ready to accommodate Queeruption; the time is not right for us.
On a positive note we are happy to report that Rome now has a queer network that is meeting regularly and planning smaller scale activities and events in the coming months.
This Collective will be contactable via a blog – mailing list soon and we welcome any help and suggestions you can offer. We hope everybody will understand our position, we are sorry for any disruption this decision causes.
Thanks for your patience,
Rome's queer network."