February 13th, 2008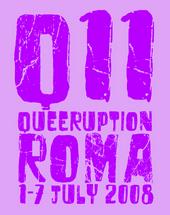 The dates for the radical D.I.Y. queer gathering Queeruption is now released! This year the festival will be in Rome, and here is the invitation from the organizers:
"We are very pleased to announce the official dates for the next Queeruption. Queeruption 11 will be held in Roma this summer, 1-7 July 2008. 


The collective in Roma is already working hard to ensure seven amazing days of queer radical culture, queer-politics, antiracism, zines, workshops, cinema, sexual health, cooking, sex spaces, art, eco-queer, music, human rights, theatre, queer cabaret, beach time, parties and more. 

Queeruption11 will provide an alternative political, queer-anarchist, non hierarchic and a creative environment; queers of all sexualities are invited to gather together to this free event, plan your trip, get a sleeping bag and join us! You are welcome! 

Italy right now faces some contradictory moments, where even a light version of civil partnership lies "within a fog", homo-trans-phobia is normalised and the gay associations are covered with cob webs…not to mention the vatican… but there is a transgender MP sitting on the house of parliament… a sign of hope? 


As you can all see there is plenty of room to discuss, promote diversity, encourage solidarity, share opinions and we are sure Queeruption11 will happen at the right time and place to shake some asses too! 

Rome has a rich history of occupied buildings, D.I.Y activism, autonomous social centres, antifascist culture; so this can be a brilliant opportunity to diversify, build up confidence and momentum within Rome's already growing queer scene. 


The festival is a D.I.Y event and it can self sustain but it needs your participation, support and sharing; to create a radical alternative to the commercial "gay scene". 


So get involved! There will be a pre-program to help us organize and make the most of every day so please contribute with art-material, performances, & workshops. Email us to book your space! 


Queeruption 11 is a self-funded festival, there will be some incurring costs for it to happen, although some benefits will be scheduled in Europe and Italy, to help alleviate the costs. All your assistance regarding the funding of Queeruption 11 is most welcome. Organize a benefits perhaps in your cities! Any feedback, comments and ideas are much appreciated. 


Here are some of the ways by which to make contact with the Q11 collective in Roma:
Myspace / Queeruption homepage / email:
q11roma@queeruption.org
We are honestly thrilled and we are waiting for many of you.

See you all this summer! 


Queeruption Roma"