November 3rd, 2009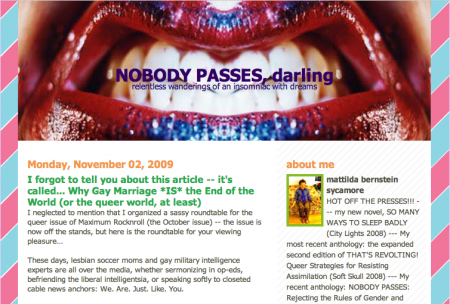 Gay marriage. Adoption. Handbags. Gaybies. U.S.A. Obamamania. Don't Ask, Don't Tell? Well…
The queer activist-author Mattilda Bernstein Sycamore has re-published a thought provoking and immensely funny round table discussion entitled "Why Gay Marriage is the End of the World (or the queer world at least)" on the status of queer politics in a conservative US climate. The text was first printed in the October issue of the DIY punk zine Maximum Rocknroll ("The Queer Issue"), and is now luckily available online on Mattilda's blog Nobody Passes, darling.
It includes the SF-based activist filmmaker Hilary Goldberg, the Chicago activist Yasmin Nair, and the NYC-based activist and organizer of the radical club Switch Gina Carducci as well as Mattilda. It is quite a read. Here is an excerpt on babyboom and adoption:
Mattilda: (…) Kids are the next big thing! How do you feel about the issue of gay adoption, and child-rearing in general, as a central preoccupation of the so-called "movement?"
Hilary Goldberg: Why don't Madonna and Angelina, in their gay wisdom, adopt some adult queer artists and activists instead? For a fraction of what they spend on a handful of appropriated transnational youths, they could adopt queer artists en masse, and foster a global queer trust fund for the movement. No need for nannies and we'd love them even more than their children, and could be just as dependent, if not more so. Average gay couples could do the same thing, direct their money towards something more expansive and useful than a handbag—I mean a gaybie. I'm thinking of a website that pairs queer artists with gay couples who have big hearts to share their love and help.
Gina Carducci: Yeah, no need for pacifiers, no need to push us around in strollers, and you don't have to wait nine months for us. We're right here! Mommy!!!!
Yasmin Nair: If you're white, beautiful little blonde children are the best, because then you'll look like a normal and natural family. But adopting one can be next to impossible! Little brown babies make the best gay accessories. Although, like every gay fashion accessory, babies have shifted in trends. I think Mongolian babies are now much more hip. Central and South American countries were once popular, maybe NAFTA opened up free trade in cute Latin babies! Until they discovered that some of those babies were most likely kidnapped. Awkward. They may not have those pesky rules in Mongolia. Of course, if you can adopt an HIV+ African baby whose mother is still around to waste away in the last throes of the disease, so that you can show the world what you rescued the baby from, all the better. (…)
Read more about this, and much more on gay assimilation on Mattilda's blog.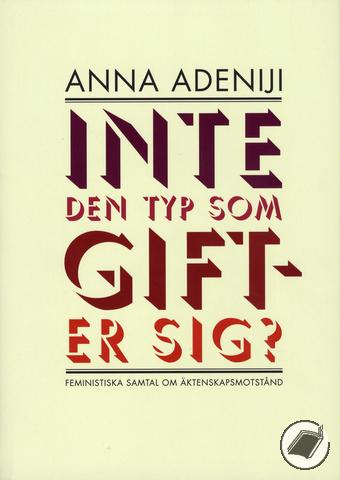 If you hunger for more perspectives on why marriage in general might not be the coolest thing in the world to promote – and you can read Swedish – don't forget to read Anna Adeniji's fantastic book: Inte den typ som gifter sig? Feministiska samtal om äktenskapsmotstånd (Not the marrying kind. Feminist conversations on resistance to marriage). This is one of the best books I've read this year. It is fantastic fun to read, and it performs critiques of marriage from a wide variety of perspectives, highlighting all the different privileging discourses this "ritual" is entangled in: migration and racism; heteronormativity and coupledom; legal and economic issues; capitalism and consumerism; religion, etc. It is a mandatory read. For a great critique of the book, see Lene Myong Petersen's text at FORUM.