April 17th, 2009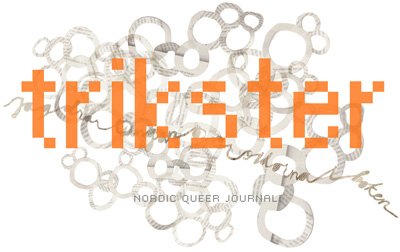 [English below]
Trikster – Nordic Queer Journal lanserer i dag sitt tredje og største nummer hittil, fylt av queer litteratur i tekst, lyd og bilder.
Triksters tema-del "Queerlitt" inneholder bidrag fra nordiske og internasjonale forfattere som stiller skarpt på begjæret og kroppens betydning i litteraturen. Felles for bidragene i "Queerlitt" er at man ikke alltid vet hvor man har dem – de forstyrrer både seksuelle, språklige, og sjangermessige grenser.
Trikster er stolt av å kunne presentere den New York-baserte spoken word-poeten Staceyann Chin, som i sin performance setter fokus på kroppsliggjorte erfaringer av rasisme og sexisme. Men humor er aldri langt unna, som i diktet hvor Chin instruerer lesbiske i hvordan man forfører streite kvinner. I "Manlighet" undersøker og utfordrer de svenske poetene Hanna Hallgren og Johan Jönson maskulinitet og kjønnstilhørighet, mens Dennis Cooper og Eli Levén flørter med det pornografiske i deres tekster om flyktige erotiske møter i "Switch". Andre bidragsytere til "Queerlitt" er Christian Yde Frostholm, Kajsa Sundin, Tova Gerge, Jonas Brun, Kristofer Folkhammar, Ulrika Dahl, Britta Tegby Frisk og Carlos Díaz. Flere av bidragene tar utgangspunkt i Queerlitteraturdagen i Gøteborg i 2008, organisert av Linn Hansén og Athena Farrokhzad, som sammen med Mathias Danbolt har redigert Trikster #3.
Trikster #3 byr også på et intervju med den britiske kunsthistorikeren Gavin Butt, som forteller om hans nye prosjekt om seriøsitet, og hans ønske om å gjøre queer teori morsommere. I nummerets kritikkdel utfordrer Sara Edenheim norske queer-forskere i sin anmeldelse av Når heteroseksualiteten skal forklare seg, Jon Helt Haarder leser med og mot Stephen J. Walton, Peter Edelberg jubler over boken Criminally Queer, Susanne Christensen svarer på Wenche Mühleisens kritikk av feministisk litteraturkritikk, og Tommy Olsson ønsker han var homo, etter å ha sett Slava Mogutins fotografier.
Trikster er et flerspråklig, gratis webmagasin som utkommer to ganger i året.Trikster #3 er redigert av Mathias Danbolt (ansvarlig redaktør), Linn Hansén og Athena Farrokhzad, og er Støttet av Fritt Ord, Nordisk Kulturfond og Senter for Kvinne- og Kjønnsforskning ved Universitetet i Bergen. For ytterligere informasjon, besøk www.trikster.net eller kontakt Mathias Danbolt påmathias@trikster.net / +45 41 15 16 13.
Trikster #3: Queer literature
The third issue of the web magazine Trikster – Nordic Queer Journal is now online on www.trikster.net.
Trikster #3 is entitled "Queerlitt", presenting queer literature with contributions from several Nordic and international writers and artists. Through video, images, and texts this issue of Trikster focuses on the body and desire in literature – giving attention to the sound of the voice, as well as bodily and textual gestures.
Trikster is proud to present the spoken word poet Staceyann Chin through video performances, and a conversation with the Swedish activist-theorist Ulrika Dahl. In her energetic performance, Chin touches upon the bodily effects of racism and sexism. But humor is never far away, as in the poem where she instructs lesbians how to seduce straight girls. Seduction is also central to Dennis Cooper and Eli Levén's contribution "Switch", where they read each other's texts about the erotics of sexual encounters.
Trikster #3 also includes an interview with the British art historian Gavin Butt. In "Dismantling the Serious Machine" Butt talks about his new project on cultural seriousness, where he reflects upon the amusing but difficult task of making theorizing more fun.
The texts in "Queerlitt" take their outset in the Queer Literature Day in Gothenburg in 2008, arranged by Athena Farrokhzad and Linn Hansén, who have co-edited Trikster #3 with Mathias Danbolt. The issue also includes contributions from Athena Farrokhzad, Linn Hansén, Christian Yde Frostholm, Kajsa Sundin, Tova Gerge, Jonas Brun, Kristofer Folkhammar, Hanna Hallgren, Johan Jönson, Britta Tegby Frisk, Carlos Díaz, Jon Helt Haarder, Peter Edelberg, Susanne Christensen, and Tommy Olsson.
Trikster is a multilingual web magazine, releasing two issues a year. Trikster #3 is edited by Mathias Danbolt (executive editor), Athena Farrokhzad, and Linn Hansén. Trikster is supported by The Freedom of Expression Foundation, Oslo, Nordic Culture Fund, and Center for Women's and Gender Studies, University of Bergen. For more information visit www.trikster.net, or contact Mathias Danbolt at mathias@trikster.net / +45 41 15 16 13.