February 14th, 2008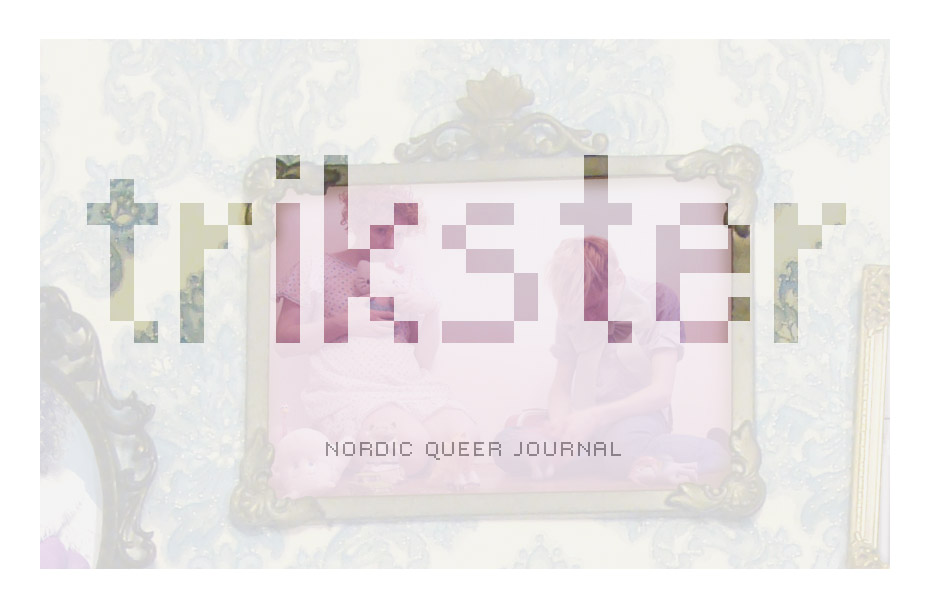 [English below]
Nå er det første nummeret av Trikster - Nordic Queer Journal ute på www.trikster.net - det første nordiske tidsskriftet med et queert perspektiv på kultur og politikk.
Trikster er et nytt kjønn- og seksualitetspolitisk tidsskrift som arbeider på tvers av akademiske, aktivistiske, politiske og kunstneriske grenser. Trikster skal fungere som en plattform der den akademiske og aktivistiske queerkulturen kan utveksle erfaringer, diskutere politikk og utvikle strategier og målsetninger. Derfor er Trikster et gratis flerspråklig nettidsskrift som kan nå forskjellige publikum på ulike steder. Trikster lanserer fire numre i året, men oppdaterer jevnlig bloggen sin med informasjon om hendelser og nyheter på Nordens queer scene. Trikster #1 er redigert av Mathias Danbolt og Fredrik Langeland.
Allerede i første nummer er vi stolte av å presentere bidrag fra både nye og mer etablerte stemmer. Her innledes temaserien Queer Norden? hvor akademikere, aktivister og kunstnere diskuterer hva queer har gjort, gjør og kan gjøre i de nordiske landene. Første del av serien inkluderer bidrag fra Tiina Rosenberg, Agnes Bolsø, Mette Moestrup, Andy Candy og Mattias Pettersson, som på forskjellige måter reiser viktige kjønn- og seksualitetspolitiske spørsmål. Tiina Rosenberg viser for eksempel hvorfor og hvordan queer-teoretiske perspektiver bør stå sentralt i venstrefløyens politikk, mens Agnes Bolsø retter skarp kritikk mot måten sentrale aktører i den norske homobevegelsen har omfavnet offerrollen.
Trikster har også møtt den amerikanske queer-teoretikeren Judith Halberstam, og diskutert forholdet mellom queer-teori, politikk og populærkultur. Videre bidrar Erik Steinskog, Anna Olovsdotter Lööv, Hanna Hallgren og Jenny Tunedal med tekster som arbeider på tvers av miljøer og sjangere, og som markerer at Trikster ikke er redd for å være verken aktivistiske, akademiske eller politiske - eller alt dette på en gang.
På engelsk er en trickster en lurendreier, sjarlatan eller bedrager. Nettidsskriftet Trikster har ingen intensjon om å svindle eller lure noen, men det vil gjerne forstyrre, pirre og provosere dere lesere med nye tanker, stemmer og uttrykksformer. God leselyst!
Trikster er støttet av Fritt Ord, Nordisk Kulturfond og Senter for kvinne- og kjønnsforskning ved Universitetet i Bergen.
*
Trikster is released
Trikster – Nordic Queer Journal is online: the first Nordic magazine with a queer perspective on culture and politics.
Trikster is new forum for discussing gender and sexual politics across academic, activist, political, and artistic borders. To be able to reach different audiences at different places, Trikster is a multilingual web-magazine free of charge. Trikster releases four issues a year, but the blog will frequently be updated with news and information concerning the Nordic queer scene. Trikster #1 is edited by Mathias Danbolt and Fredrik Langeland.
In the first issue of Trikster we proudly present contributions from both new and more establishes voices: Tiina Rosenberg, Agnes Bolsø, Judith Halberstam, Mette Moestrup, Andy Candy, Mattias Pettersson, Erik Steinskog, Anna Olovsdotter Lööv, Hanna Hallgren, and Jenny Tunedal.
In English a trickster signifies a fraud, a charlatan, or a cheat. This Nordic Trikster has certainly no intentions to defraud or deceive anyone, but it would like to interrupt, provoke and excite you readers with new thoughts, voices, and modes of expressions. Welcome!
Trikster is supported by Nordic Culture Fund, The Freedom of Expression Foundation, Oslo & Center for Women and Gender Studies, University of Bergen.