March 19th, 2008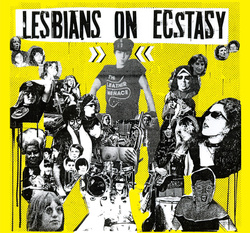 Slackers view melder at de sagnomsuste canadiske Lesbians On Ecstacy stopper innom både København og Malmö på sin Europa-turné i mai.
Som Slacker forteller fikk Lezzies On X – som de kalles til hverdags – kultstatus tilbake i 2004 da de var med Le Tigre på verdensturne. Samme år slapp de sitt debutalbum med harde dansbare elektronikatolkninger av låter fra lesbeikoner som Melissa Etheridge, kd lang og Indigo Girls. Siden den gang det har de sluppet album som Giggles In The Dark, og senest We Know You Know.
6. mai er de å se på Loppen på Christiania i København, og 7. mai på Queer Base i Malmö, der Merde Niluap og The Hardliqour Men varmer opp.
"Mycket hjärta att vänta när Bernie Bankrupt, Veronique Mystique, Pretty Ricky och Fruity Frankie går på scenen", skriver Slacker. Det er bare å glede seg, hvis man er så heldig å få billett!