August 29th, 2010
Trikster's editor has been somewhat absent from the blog over the last months due to work load on other fronts, but hope to pick up some speed with news and info about good stuff happening on the queer political, theoretical, activist and academic front.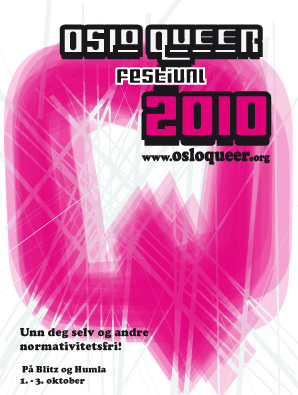 In that vein, it is great to see that Oslo Queer still keeps up arranging a queerfest, and this year the festival is held between October 1-3 between Blitz and Humla. The program isn't ready yet, but it will be probably be good this year as well. This is what they have written so far on their homepage:
"Oslo Queer Festival is a DIY (do-it-yourself) and non-profit event. It's a non-sexists and non-racist festival which is focused on making a space for creativity and critial thought. Except for the party on Saturday, the entire festival is free!"
Read more on their homepage.