August 12th, 2008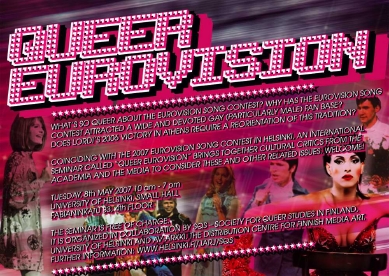 The Finnish queer journal SQS – Journal of Queer Studies in Finland has just released a new issue entitled Queer Eurovision.
The two guest editors Mikko Tuhkanen & Annamari Vänskä have put together an ambitious issue taking on Eurovision Song Contest from several interesting perspectives. As Tuhkanen explains in his introduction "Queer Eurovision, post closet":
"The essays […] take up the post-outing Eurovision Song Contest as an opportunity to think through such issues as the cohesion and generation of gay fandom [Brian Singleton, Karen Fricker & Elena Moreo]; the constitution and disruption of heteronormative address and audiences [Mari Pajala]; the oxymoronic status of the idea of 'queer nationality' [Peter Rehberg]; the national temporalities that are performed and critiqued on the Eurovision stage; camp as the primary critical tool for the analysis of ESC's queerness [Peter Rehberg & Mikko Tuhkanen]; and the possibility of camp's lesbian specificity [Annamari Vänskä]."
The articles – which are predominantly in English this time – give several new perspectives on this annual event, that people love (– to criticize). In addition to the articles on ESC, the issue also includes an introduction to Finnish media artist Anneli Nygren by the the art historian Harri Kalha. In his text "Anneli Nygren. An Appreciation" Kalha reads Nygren's work through the writings of Roland Barthes, interrogating the "queer aura that hovers about" her work. A personal introduction to this unique "folk video artist".
SQS has once again delivered a fascinating issue of Strictly Queer Stuff (to borrow Kalha's suggested title) – read on!