June 10th, 2008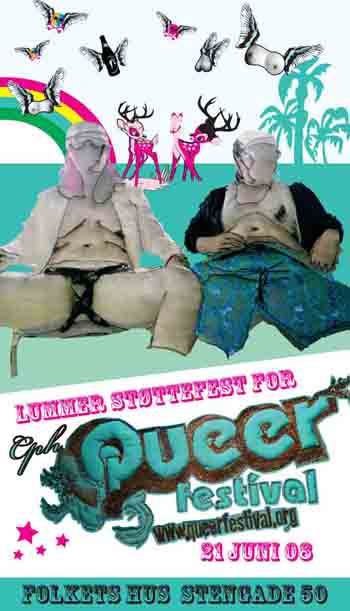 On Saturday June 21 at 21.00 there will be a sleazy support party for Copenhagen Queer Festival at Folkets Hus at Nørrebro in Copenhagen.
Copenhagen Queer Festival takes place between July 21-27 at AFUK, Kigkurren on Islands Brygge in Copenhagen. The support party will give a taste of what to expect later on this summer. The party will fill three floors in Folkets Hus, and among other things contain dirty DJ's and VJ's, cocktail-lounge, dress-up/dress-down corner, chill-out & enjoy-eachother-lounge and the exclusive chance of supporting the local queer festival and having a great time, all at once! (Cover charge: 40 DKK)
The day before the support party, on Friday June 20 at 19.00, Enhedslistens Queerudvalg will thrown another queer cafe event, Cafe Under Dekonstruktion, at Folkets Hus. Here the organizers of the Copenhagen Queerfestival will give a presentation of the festival, and everybody is invited to decorate the place for the support party. If you have loads of fantastic fabrics and materials at home, bring it!