January 29th, 2010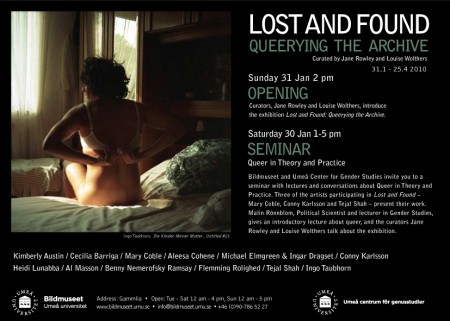 On Sunday January 31 at 2 pm, Lost and Found opens at Bildmuseet, Umeå!
The curators of Lost and Found, Jane Rowley and Louise Wolthers,will introduce the exhibition.
On Saturday January 30, there will be a seminar in conjuntion with the exhibition. The seminar, "Queer in Theory and Practice", is organized by Bildmuseet and Umeå Center for Gender Studies, and will contain lectures and conversations about queer art and theory. Three of the artists participating in Lost and Found – Mary Coble, Conny Karlsson and Tejal Shah – present their work; Malin Rönnblom, Political Scientist and lecturer in Gender Studies, gives an introductory lecture about queer, and the curators Jane Rowley and Louise Wolthers talk about the exhibition.
Welcome!