June 12th, 2009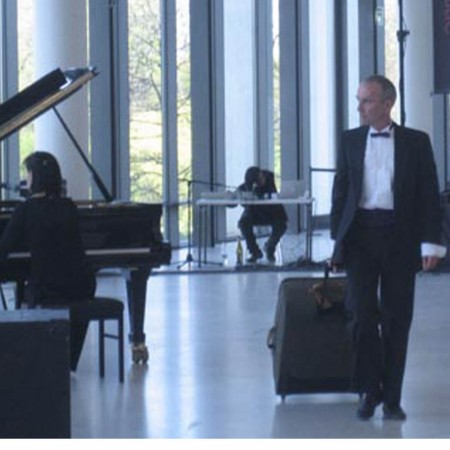 Performance by Al Masson (DK/FR) Saturday 13 June at 3 pm at Nikolaj, Copenhagen Contemporart Art Center.
Al Masson's performance Objets de Voyage is part of the exhibition Lost and Found: Queerying the Archive. In this performance the artist arrives as a well-dressed ragpicker with a suitcase full of found objects carefully released from their original use – like brightly coloured packaging deviod of labels. Many of the objects are vaguely recognisable, but through the artist's live installation of them in surprising combinations they form a strangely compelling parallel universe of inexplicable, fragile eroticism. This collections of refuse – lovingly rendered exclusive by the artist is stored and recycled in constantly new constellations. Carefully boxed and labeled when not on suitcase wheels and display, the Objects de Voyage form a series of alternative archeaological finds for the historians of the future.
The performance will take place in the exhibition space.
 *
Performance ved Al Masson (DK/FR) lørdag d. 13. juni kl 15 på Kunsthallen Nikolaj.
Al Massons performance Objets de Voyage er en del av udstillingen Lost and Found: Queerying the Archive. I denne performance ankommer kunstneren, som en velklædt klunser, med en kuffert der rummer dele af hans store samling objekter. I en slag ritual tømmes kufferten og genstandene placeres sirligt i et farverigt landskab. De viser sig at være emballage og andre masseproducerede hverdagsgenstande, som omhyggeligt er blevet renset og bevaret. Objekterne bliver fetich'er og får nyt liv som de arrangeres i fantasifulde formationer og udgør et alternativt arkiv af samtidshistoriske levn.   
Performancen finder sted i udstillingsrummet.