June 10th, 2009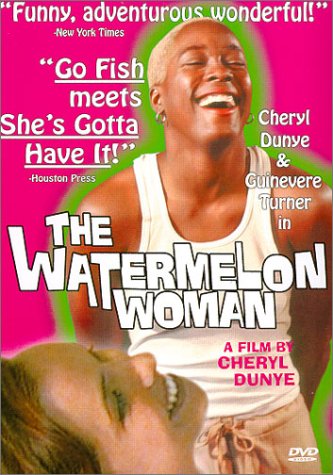 On Thursday June 11 at 5 pm there will be a screening of Cheryl Dunye's feature film The Watermelon Woman (1996) at Nikolaj, Copenhagen Contemporary Art Center in conjunction with the exhibition Lost and Found: Queerying the Archive. The film will be introduced by art historian Mathias Danbolt, co-editor of the Lost and Found publication. 
Set in Philadelphia, The Watermelon Woman tells the story of Cheryl, a 20-something black lesbian struggling to make a documentary about Fae Richards, a beautiful and elusive 1930s black film actress, popularly known as "The Watermelon Woman".
While uncovering the meaning of Fae Richards' life, Cheryl experiences a total upheaval in her personal life. Her love affair with Diana, a beautiful white woman, and her interactions with the gay and black communities are subject to the comic yet biting criticism of her best friend Tamara. Meanwhile, each answer Cheryl discovers about the Watermelon Woman evokes a flurry of new questions.
The film features many notables from the lesbian and gay community including: Guin Turner (Go Fish), Sarah Schulman, Camille Paglia and highlights the photography of Zoe Leonard. 
Read more about the film on Cheryl Dunye's homepage.
*
Torsdag 11. juni kl. 17.00 vises The Watermelon Woman af Cheryl Dunye (1996) på Kunsthallen Nikolaj i forbindelse med Lost and Found: Queerying the Archive. Introduktion til filmen ved kunsthistorikeren Mathias Danbolt, medredaktør af udstillingskataloget Lost and Found: Queerying the Archive.
The Watermelon Woman handler om Cheryl, en ung sort kvinde, der kaster sig ud i at skabe en dokumentarfilm om Fae Richards. Hun var en smuk men glemt sort filmskuespiller fra 1930'erne og kendt som "The Watermelon Woman". Ligesom Richards var lesbisk og havde en hvid elskerinde, forelsker Cheryl sig også i en hvid kvinde, hvilket ikke er uproblematisk. Efterhånden som Cheryl finder brudstykker fra Richards' liv, opstår der nye spørgsmål om den gådefulde kvinde.
 I The Watermelon Woman optræder bl.a. Guin Turner, Sarah Schulman og Camille Paglia, og Zoe Leonards fotografier ("The Fae Richards Photo Archive") spiller en fremtrædende rolle.
Les mer om filmen på Cheryl Dunyes hjemmeside.